Congratulations on your award and welcome. Use this page to add project work products to the resource library, get an overview of the post-award process, and learn about the Belmont Forum e-infrastructures and data management policy. Awardees should also visit the Calendar and Connect pages. The latter includes guidance on how to connect with fellow awardees on Twitter and LinkedIn.
Have project news? Help amplify and share Belmont Forum awardee success stories and updates on our News page and the Newsletter by emailing us with your updates.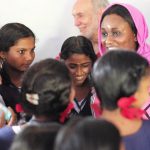 The Post-Award process is evolving to help awardees share learning and to help the Belmont Forum community show the cumulative impact of all our projects. The process includes a project kick-off meeting (optional), mid-term meeting, end-term meeting, and legacy steps. Legacy steps include helping previous awardees find additional resources to continue their work.
More information is available in the flowchart below. See also the CRA development process and proposal process flow charts.
Data Policy and Implementation

The Belmont Forum has adopted an Open Data Policy and Principles produced by the e-Infrastructures and Data Management CRA to establish recommendations on a more coordinated, holistic and sustainable approach to the funding, and support of global change research. To increase data sharing and foster longterm management and organization of project-generated data, basic Data Management Overview questions are incorporated into all Belmont Forum project applications to encourage all project data to be:
Discoverable through catalogues and search engines
Accessible as open data by default, and made available with minimum time delay
Understandable in a way that allows researchers—including those outside the discipline of origin—to use them
Manageable and protected from loss for future use in sustainable, trustworthy repositories
More information on why the Belmont Forum requires a data management section in their application process and latest updates on data management can be found on the Data and Digital Objects page of this site.

Add to the Resource Library
Increase your impact within the Belmont Forum community and beyond. Share your project work products on the Belmont Forum Resource Library using the form below. We want your research posters, articles, and  presentations in any format. We can receive and upload the file or a link to the resource elsewhere. Form submissions are emailed to Belmont Forum team and reviewed before uploading to the library. Email us with any questions.