Project Profile: CITYFOOD
Smart integrated multitrophic city food production systems – a water and energy saving approach for global urbanisation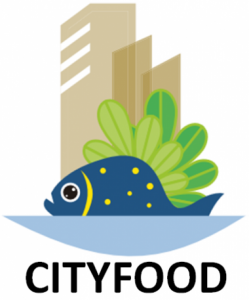 Who?
Principal Investigators:
Prof. Werner Kloas and Dr. Daniela Baganz, Leibniz-Institute of Freshwater Ecology and Inland Fisheries, Germany
Partners:
Ing. Toni Heindorf, SRP Gesellschaft für Stadt- und Regionalplanung mbH, Germany
Dr. Maria Celia Portella, UNESP - Universidade Estadual Paulista 'Julio de mesquita Filho', Brazil
Daniela Baganz, Forschungsverbund Berlin e.V., Institut für Gewässerökologie und Binnenfischerei, Germany
Dr. Karel Keesman, Wageningen University - Agrotechnology and Food Sciences, Netherlands
Siv Lene Skar, Norwegian Institute for Bioeconomy Research, Norway
Dr. Alyssa Joyce, University of Gothenburg - Department of Marine Science, Sweden
Prof. Gundula Proksch, University of Washington - College of Built Environments, United States
Sponsors:
What?
| | |
| --- | --- |
| Full Project Title: | Smart integrated multitrophic city food production systems – a water and energy saving approach for global urbanisation |
| Full Call Title: | Nexus2016 |
| Website: | |
Why?
| | |
| --- | --- |
| Project Objective: | The project CITYFOOD aims to explore the potential of IAAC (Integrating Aqua-Agri Culture)systems for urban applications in context of Food-Water-Energy Nexus challenge. Feeding rapidly growing urban populations, requires innovative solutions that ensure efficient water, energy, and nutrients management. The project CITYFOOD investigates quasi-closed loop integrated aqua-agriculture systems to address this global challenge. IAAC systems produce fish and plants, while re-using the wastewater from the fish production as a nutrient fertiliser in nearly emission-free facilities. This nearly zero-waste clean food production method, has already been realized in a range of cites worldwide. However, it is still a niche market with stand-alone facilities of varying size, and configuration often lacking production stability and economic profitability. CITYFOOD will develop strategies to further popularity and application of this space, and resource friendly food production system in urban areas. The multidisciplinary project team involves city planners, urban farmers, scientists, entrepreneurs, community leaders, and engaged citizen to reach its goals. The expected results of the project will be beneficial to scientists, politicians, city planners, decision-makers, manufacturers, producers and consumers looking for local, sustainably produced food products. The results from modelling, urban planning and the Living Labs will be compiled into the CITYFOOD innovation concept providing optima lIAAC solutions. The project CITYFOOD contributes building a sustainable infrastructure in cities. The Project work establishes an aquaponics knowledge base for assessments of existing knowledge and concept refinement. Further, we look at urban planning and FWE (food-water energy) interactions and have defined important key indicators and success criteria to evaluate urban food supply. |
| Call Objective: | The Sustainable Urbanisation Global Initiative (SUGI)/Food-Water-Energy Nexus is a joint call established in order to bring together actors to find innovative new solutions to the Food-Water-Energy Nexus challenge. The ultimate goal is to increase the access and the quality of life. |
Where?
| | |
| --- | --- |
| Regions: | Europe, South America |
| Countries: | Brazil, Germany, Norway |
When?
| | |
| --- | --- |
| Duration: | 49 months |
| Call Date: | 2016-12-09 |
| Project Award Date: | 2018-02-15 |